Drum roll please… our MVP for Q3 at Emérique & Partners is the remarkable Kevin Robinet! 🏆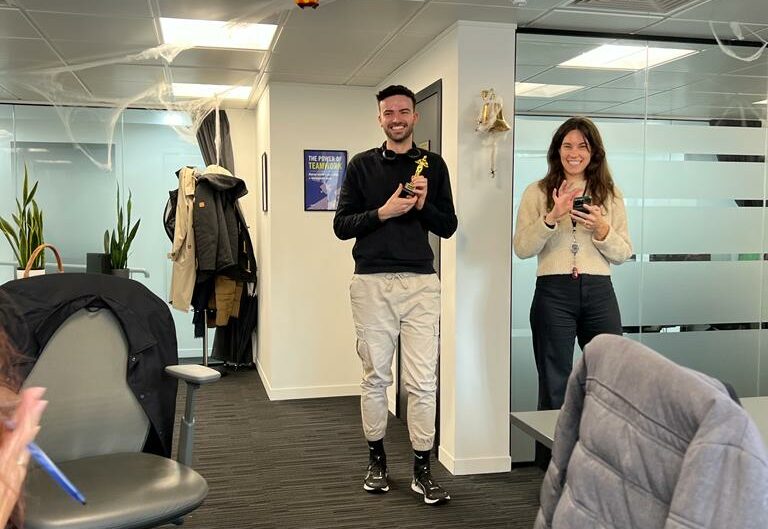 After the end of every quarter, our senior team nominates an MVP using our core values and key metrics such as including professionalism, ethics, teamwork, integration, and overall performance, to determine a worthy winner.
After earning two promotions within a year and a half of joining Emérique & Partners, it's safe to say Kevin is the embodiment of the E&P ethos. With an unparalleled work ethic and unwavering determination, it was only a matter of time before Kevin added "MVP" to his list of accolades since working at E&P!
Let's dive into what has made Kevin's performance in Q3 stand out to become MVP:
Kevin is a top achiever, with high standards, and an incredible work ethic.
As well as demonstrating remarkable consistency in their performance, Kevin is all around a great person to work with – his positivity and laughter are contagious!
He is excellent at seeing through the recruitment process, from sending out a candidate's CV to the successful placement of said candidate. He acts with speed and efficiency, while still maintaining the high standards he is renowned for.
Kevin truly stands out in his ability to quickly build strong relationships with candidates, all while remaining highly result-oriented. Responsive and quick to learn, Kevin is also a good listener who doesn't need to be told twice before taking action.
Congratulations, Kevin, on being named our Q3 2023 MVP! 🏆