At Emérique & Partners, we believe that recognising and rewarding exceptional performance is key to fostering a culture of success. 
As part of our perks and incentives; quarterly, we reward our top performers with fine, often Michelin star dining at a prestigious restaurant. Last quarter, Emérique, Marie Preira, Justine Carlotti and Kevin Robinet enjoyed a taste of home when they headed to Coq d'Argent, one of London's finest French cuisine restaurants and evening cocktails bars.
Whilst at Coq d'Argent, we got some great snaps of the team enjoying their incentive, including some of the best French food and cocktails we have had the pleasure of trying in the city of London.
Marie, Justine and Kevin are strong embodiments of our company values, with their strong market knowledge and equality-driven mindset. The adoption of these values has allowed them to create solid long-term relationships with candidates and clients alike, which enables us to act efficiently by knowing their requirements and advising on their future hiring needs or next challenge. Their consistent hard work and dedication has been crucial in helping them smash their targets, giving them the opportunity to enjoy a sensational incentive!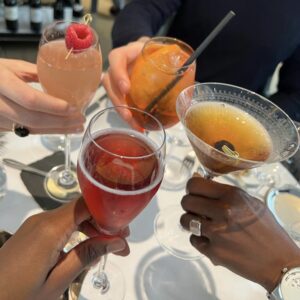 Want to be a part of our next lunch club? We're hiring! 
We currently have three open roles, check them out here 👇
Work For Us